President Erdogan's confession from Sumudica who said "I hope he will rule the country until I die": I wanted to meet you very much, but it did not happen.
5 min read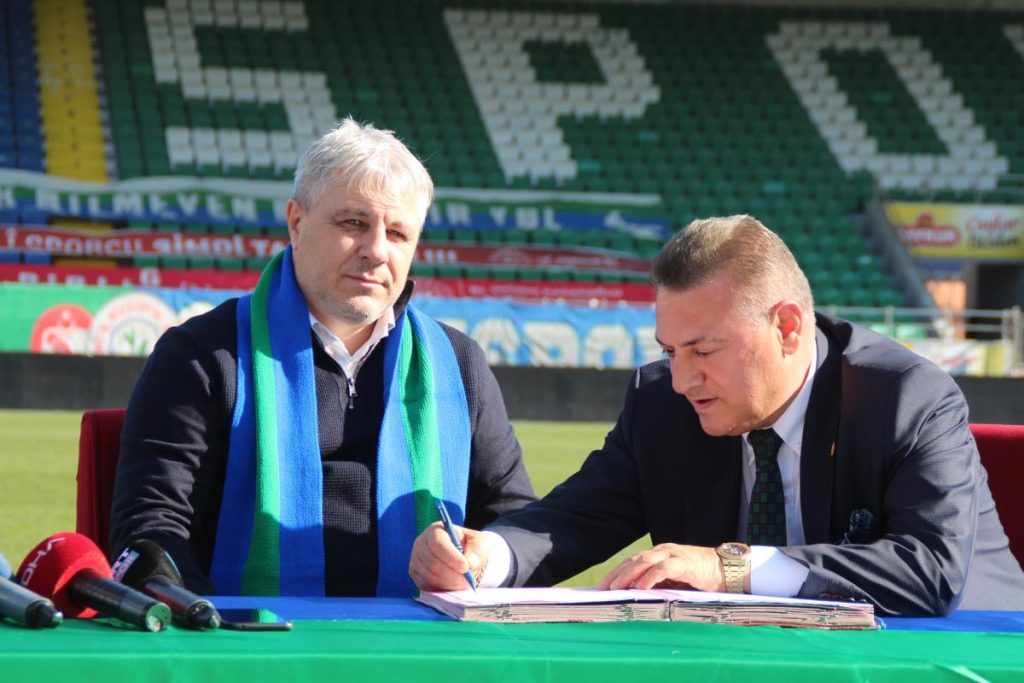 Football players with Marius Sumudica, who was appointed as the manager of Çaykur Rizespor, one of the Super League teams Erik Signing ceremony was held for Sabo and Damjan Dokovic. Club president Hasan Kartal, Sumudica, board members, footballers Erik Sabo and Damjan Dokovic attended the ceremony held at Çaykur Didi Stadium.
Kartal, in the signing ceremony, when Sumudica's contract was written "I will never fight with your spouse. Until I die", it caused laughter. Sumudica said she would pass this on to her husband.
In his speech here, Kartal thanked Stjepan Tomas for his departure and stated that he paved the way for the team by being selfless.
"INSPIRED, WE WILL CONTINUE FOR A LONG TIME"
Stating that they wanted to work with Sumudica and Rizepsor for years, Kartal said, "The teacher change is not good. Tomas was a good person. We do not break away from our outgoing teachers. Now we are together with Sumudica. Maybe one day we will go but we will not break. I hope we will continue with our teacher for a long time." said.
Your contract with Sumudica Gaziantep Pointing out that it is the same as the FK club, Kartal said, "We do not have a separate item with our teacher. Our teacher understanding is that if our teacher wants to go, if he wants to go to a better place, if he is not happy here, he will go without strangling. We do not want to have a problem with anyone. . " he spoke.
"TRANSFER TEACHER WILL DECIDE"
Stating that the transfer is the teacher's job, Kartal said, "The transfer will be decided by the teacher today. We will take care of the decisions made by our instructor with our sports director. Yılmaz Bal will continue as long as I am. We work with someone who knows the job. Yilmaz Bal is me here. Sport about my consultant. The man to guide me. You will set up the team well. My teacher will take care of the team and will be in solidarity with Yılmaz Bal. We will protect them too. We will close each other's gap. "
SUMUDICA: I WANT TO END MY 1.5 YEAR AGREEMENT IN RIZE
Sumudica said that two people who will beat their hearts in the same rhythm at the same time came together and Hasan Kartal was a great chance for him.
Sumudica, who did not mention their experiences in Gaziantep, said, "I do not want to say anything positively and negatively with Gaziantep. I wish them luck in the future. I left it with 31 points in the club and 3rd place, but it is over for us." said.
Caykur Rizespor's often Sumudi in the assessment of the changing teacher, "I've never worked less than a year at the club I worked the last eight years. Romania, Arabia, I was shown always among the first three coaches everywhere I work in Turkey. I did not come to Rize six months. Me If the offer of 3-5 million euros comes tomorrow, I will push it with the back of my hand. I came to Rize to finish the 1.5-year contract. I have a medium-term plan. I hope this will turn into a long term. Because we can increase it if the two sides are satisfied with each other. I promise that I have no desire to go. " He spoke in the form.
"I WILL FIND THE PEOPLE THAT WILL DICK WITH ME HERE"
Sumudica, that many offers came from abroad, said that he liked to be agreed to Rize in Turkey.
In Turkey Caykur Rizespor in the study he asked that some parts of the voiced emphasizing that Sumudica, "I am a professional club. I was greeted very well since I got here. That's where I gained a 2-1 win Gaziantep, I know the city. A lot of pressure behind me had occurred. Bente I liked that pressure very much. Because I'm a little crazy in the matches. I needed people who would go crazy behind me with me. I believe I will find it here. We will bring out a good performance with the combination of madness. Because Rize has good players. " He spoke in the form.
"TURKEY IS MY TWO COUNTRIES"
Saying that he left the past behind, Sumudica said, "I just want to be motivated to Rize. A football club can never be successful if its media power is not behind it. If it cannot be a family, it cannot do anything with the players and the employees. I did it in Gaziantep. I want to apply the same in Rize. . " said.
Noting that he did everything to get the Turkish passport in Gaziantep, Sumudica continued as follows:
"Help me not be satisfied. I can go anywhere in the world with a Romanian passport. You do not need a visa. I want to show my respect to this country. Because I'm making money. Turkey is a country which is in my heart. Rize, not without'm talking about Turkey. Turkey is my second country. "
"HOPE PRESIDENT ERDOĞAN SERVES THE COUNTRY UNTIL DAYS"
Expressing his admiration for President Recep Tayyip Erdogan, Sumudica said, "Not only for his devotion to sports. I appreciated him for what he did for this country. I told the ex-president of Kayserispor Erol Bedir that I wanted to meet him. I hope this request continues here. As long as I work here, I will have the opportunity to meet. A president who works hard for his country. I hope he will serve this country until he dies and I'll be here. He spoke in the form.
"WE WILL MAKE FORVET TRANSFER"
Saying that they transferred Sabo and Dokovic, Samudica said, "We are doing our transfers jointly. We are thinking of getting at least one more striker. We can increase this to two. I talked to the medical team about Remy. The information I received can be separated from the team for 1.5 months. will also lose ten matches. We will consider that. " he spoke.
"RIZESPOR WILL NOT BE A TEAM PLAYING TO FALL THE LAST 2-3 WEEKS"
Referring to the fact that the Fenerbahçe match will be difficult, Sumudica said, "There was no half of the team in the Başakşehir match, but we missed the win. I will not take our player, who is worried about losing, to Istanbul. Every famous player sits next to me on the bench if no one is fighting to the last drop of sweat on the field. I'm going crazy on the bench. I fight my fight. I want to see that fight on the field. In the last two games my team did it. " made statements.
Sumudica explained, "Çaykur Rizespor will never come to the position of the declining team with Sumudica for the last two or three weeks. I promise that." He completed his speech with expressions.
Sabo and Dokovic said that they are happy with their transfer to Rize and that they will struggle to contribute to the team.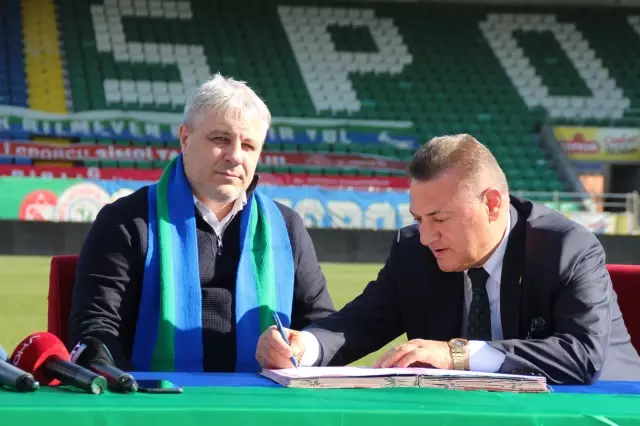 Source: Anadolu Agency / Muhittin Sandıkçı