Hasan Kartal: let Galatasaray study well – Last minute Çaykur Rizespor news
2 min read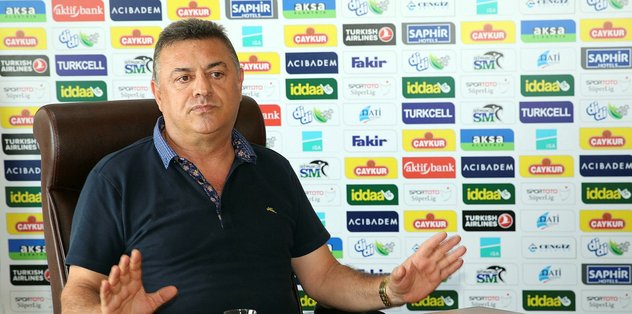 Ziraat Turkey Cup last 16 round match in the 1-0 defeat away to Besiktas Caykur Rizespor Cup farewell in which journalists after the president Hasan Kartal answered questions competitions.
He started his words by saying his thoughts about the match, "It would be difficult for us to be interested in the cup too much. The league is more important. As a result, it was a good game, it was a good game, Beşiktaş won. I hope Beşiktaş will go to better places.
"RIZESPOR HAS THE RIGHT TO EXTEND ONE MORE IN THE LAST ARTICLE OF THE CONTRACT"
Hasan Kartal, who has occupied the public recently and commented on the punishment given by the UCK to Oğulcan Çağlayan, said:
"There is a contract made. In the last article of the contract, Rizespor has the right to extend another year. When you look at it legally, there is no problem in this. A previously agreed contract and mutual signed. In this framework, we used the option to meet with our athlete on the last day. Of course, 6 matches left, our athlete terminated the contract and went at a time when Rizespor was very troubled. The departure of this child is of course not ethically correct. It is not legally correct as required by the contract. . You will read the contract. I think it is necessary to act according to the contract. "
"WE WILL FOLLOW IT WHAT THE RESULT IS IN THE LEGAL PROCESS"
Expressing that the next process is legal, Hasan Kartal said, "Regardless of the result, we will comply with it, we are not in a position to oppose it. I think it will be concluded within 1-2 months, the righteous side will definitely win. Nothing to say. Relevant authorities examine the result. we will wait, "he said.
"FIRST, LET THEY STUDY THE LESSON WELL, THEN THEY TALK"
Responding to the statement made by Galatasaray President Mustafa Cengiz on the subject of Oğulcan Çağlayan, Hasan Kartal said, "Those who make that speech should first read the last article of a contract. If they talk without studying, they will stay in the classroom. We are two clubs. Galatasaray is a distinguished club with its supporters. Those who manage this club need to study their lessons. They asked us for a document and we did not give it? 'Rizespor did this with TFF', 'How I do not know he did ',' How did Rizespor do it 'or something … Rizespor has done what he needed. Should we not? We have to defend Rizespor's right, if we do not, the subsequent managers will not ask us to account?