Very strong reaction from Mustafa Cengiz to Ali Koç: You dictated the statement prepared by 17 clubs against us
6 min read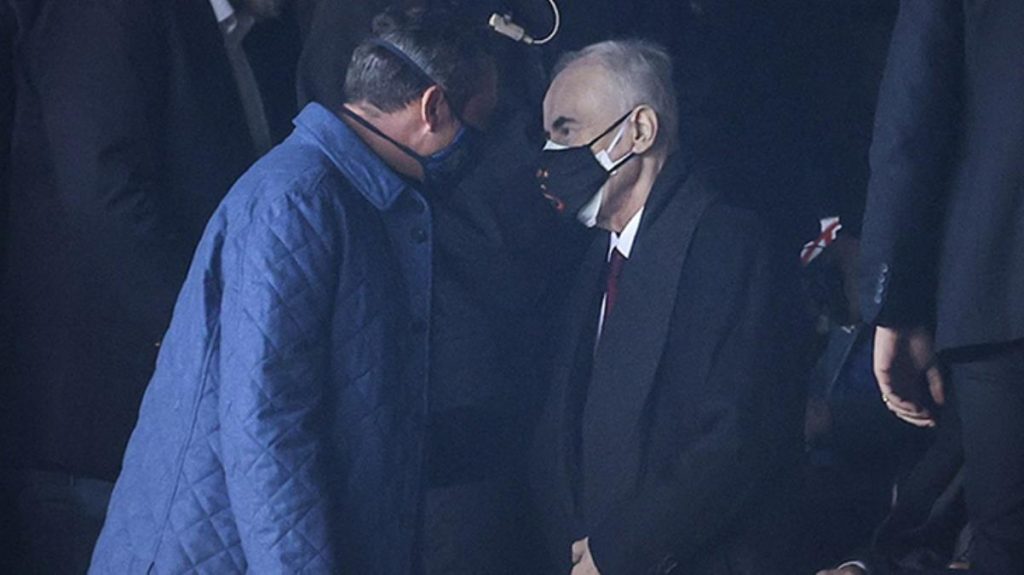 Galatasaray President Mustafa Cengiz, Fenerbahce President Ali Kocmade statements about the sports director Emre Belözoğlu. He also talked about what happened in the derby, referee decisions and many more.
Here are the statements of Mustafa Cengiz;
Do not appear humble in this country, they think it is real! No matter how much you try to remain respectful, masterful and lawful, some backward people and segments will see you weak and unrepresentative! They start to give you advice! Reason is superior to reason, I can get reason even from a 10-year-old boy, but they look down on you while you constantly want to stay within the law! If you don't steal, maybe the people in the house will scorn you too, but don't deviate from the right path! They taught us this. I call out to Fenerbahçe and Beşiktaş, do not deviate from the right way. If we deviate from this path, other problems will arise.
"WE ARE NOW TIRED"
TFF must get on the right track. He must take the right path, not our way. As Galatasaray, we are doing the right things. We did not make demands that could not be made, we did not make demands for ourselves. The match time was set to 16:00, Kasımpaşa asked us to apply in writing, we also applied to the broadcaster. Despite the loss of income, the broadcaster accepted it and thanked the publisher. They said that if Beşiktaş had this request, they could accept it. Let this game be played manfully. We are tired!
"THERE IS SUCH WEATHER, AS WE HAVE BEEN RENEWED"
What happened to Fenerbahce match? I had brain surgery, but I don't know. There is such an air in our fans that we were beaten, beaten? But I said to the friends: Shots start from the ambush.
"IF YOU WERE GIVEN YOUR GOAL, OUR PENALTI WAS NOT GIVEN"
We lost in the Alanya match, what would happen if there were 5 more minutes? What would happen if a penalty was given? We did not take them forward. However, we see that our opponent covered the defeat, 'Wow, our goal was not awarded.' If you were given your goal, our two penalties were not given. We have seen the most damage from the referees.
"EY ALI KOÇ, YOU WRITE THIS"
You have joined us for 17 club referees. You published a paper, you said "Referees are also people, they can make mistakes". O Ali Koç, you dictated this. Some referees make regular mistakes to us. Neither Ulusoy people, nor did we see those who tried to finish the job. May Allah open his ways.
"TROLL COMPETITIVE ACCOUNTS ATTACK MARCAO"
Insults to Marcao, insults to his wife … Some troll accounts, rival accounts. The accounts made against us are also from troll accounts. There are accounts that are not our fans but appear to be our supporters. We know these, there are serious teams that are interested in this, the fee is paid … They declared yesterday, it means Allah is surprising. I resign, but the laws do not allow. I've said it 52 thousand times, I'm sick of it! It says 'don't tell us serum', what serum? Don't do that anymore. We are for this supporter.
"I DON'T FEAR FROM ANYONE, BUT ALLAH"
I didn't like the rival team president walking around like a council executive officer. It travels like safety. They were uncomfortable with clapping. God, God … You came, applauded in our house and asked for my applause. God, how is this mentality? You can't get anywhere with this mindset. Such poor quality does not happen. I'm not afraid of anyone, except Allah. I'm telling you seriously, I thought we were defeated by Fenerbahçe. Don't do it guys, don't turn our summer into winter.
"EMRE BELÖZOĞLU IS NOT MY COMPANY"
"I did not blame anyone about İrfan Can. We only asked questions about the transfer. I never insulted, did not blame. I just asked. I just asked questions, I asked the TFF, I asked the opponent. You told me € 10 million, now they say € 7 million. Then there is no gap in between, why didn't you negotiate with me? Emre Belözoğlu is not my addressee. Someone who served Galatasaray. I cannot look at what he said, what he said. Abdurrahim Bey may have said something in his own feelings.
"BE MERT, WE ARE NOT STILL"
We got intelligence before this derby. What we talk about is 5 percent of what we know. We don't want a fight to break out. We do not want our fans to react physically. 'Who are they?' we said, you're stopping us. I think an official from TFF said that you can get 150 health workers verbally for the rival club. I haven't heard, I don't know. I have correspondence with TFF, this is the summary I got out of the incident. They could not control, 150 people became 3 thousand people. Not only 1907, but all other lodges had people. Let them not defend childishly, let them say bravely that the 'Password was 1907'. Everyone who said 1907 entered. ' I am for manhood, we are not stupid.
"IF THERE WERE REFERRED FROM TFF, THEY WERE PENALTY PENALTY"
TFF did not make the referral from the audience! Otherwise, they would get a prison sentence and their management would end. The penalty of 2,500 people is 72 thousand TL! I'll pay out of my pocket then! Why am I not doing it? Is that PFDK stupid? They do not refer from field events. My vice president was attacked. What if something happened, who would pay for it? It did not ship from him!
"DO YOU HAVE ANY FAMILY?"
PFDK decides for the incoming file. The arbitration also decides for whatever comes before the PFDK. Did Arda Turan publish these images from his own account? How was Arda Turan shipped? There is a Beşiktaş incident before, they could not give a penalty? Who is referring this? Very bitter friends. Arda's case is wrong or right but should not have been referred. I do not approve of this, Arda does not either. Are there any people among you who never swear? If anyone does not swear, let Arda judge! I am telling the TFF and the Legal Council. Shame on you, TFF is not managed like that. Give me the punishment. You have fined 72 thousand TL. They gave 50 thousand to me and 100 thousand to my club because we made a statement at the Başakşehir match.
"I WANTED DESSERT, SUPPORTED"
I wanted Serdar Tatlı to be MHK President and I supported him. I did not do it, nor did I come side by side in my life. Once I attended the seminar, I was the only chairman to attend and was embarrassed. I think everyone will come, I was a beginner. I met there and shook hands. Zekeriya Bey was also a decent person. However, it has become such that I have no confidence.
"THERE IS A REFEREE, I ARE WAITING FOR HIM"
I'm not speaking to pressure the referees. If I name it, other clubs will unite again. My fans know those referees. Especially there is a referee, I'm waiting for him. I counted when the goalkeeper took the ball, 6, 16, 36 … Let's see what the same referee will do when it comes to our match? We will see if there are 7 after 6.