Turkey Basketball Federation, terrorists who allegedly kidnapped abroad about Abraham Seten'l prosecutors called to task
4 min read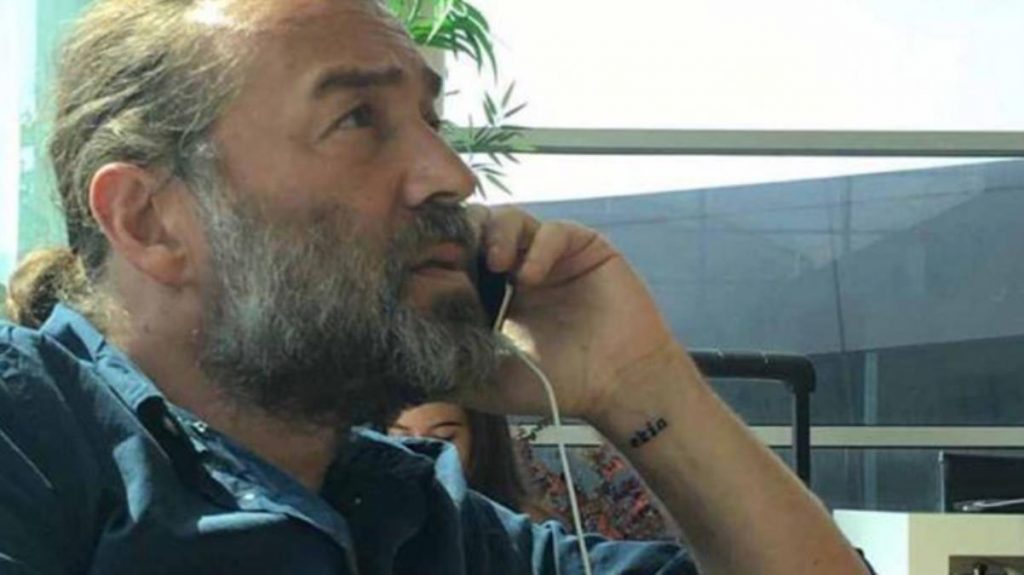 Turkey Basketball The Federation, between 1992-1994, who served in the federation and during this period with fake passports 3 terror organization member, made a statement about journalist İbrahim Seten, who allegedly smuggled 5 people to the United States, and called prosecutors to duty.
In the statement made on the official website of the Federation, it was stated that they felt sorry for the name of the institution being mentioned with this incident, and it was stated that the public authorities and prosecutors should do the necessary work in order to initiate an investigation against the relevant names.
Here is the statement made by the federation;
On the evening that our A Men's National Team defeated Sweden and Croatia and qualified to participate in the FIBA ​​2022 European Championship, a person named "İbrahim Seten" was investigated on the crime of human trafficking while working in our Federation in 1992-1994, and he also confessed his guilt in his testimony. the newsi has been involved.
We are extremely upset that the name of our Federation is mentioned with such a serious event.
In return, our Federation will immediately initiate an investigation into the allegations. Due to the judicial aspect of the issue, we invite Public Prosecutors and public authorities to make inquiries about İbrahim Seten, who was mentioned above, and the President of the Federation at the time, Turgay Demirel, and other relevant persons.
It is respectfully announced to the public.
HİDAYET TÜRKOĞLU: OUR FEDERATION IS APPROACH TO THE SUBJECT WITH SENSITIVITY
TBF President Hidayet Türkoğlu said in a statement he made on his account on social media that he was very sorry for the allegations on behalf of the federation and they approached the issue with sensitivity.
Calling the prosecutors and ombudsmen to duty, Türkoğlu said, " the news We are investigating all the details of the İbrahim Seten incident that took place during the Turgay Demirel period. It saddened us that the name of our Federation was mentioned with such a serious event. From here, I invite our Public Prosecutors and ombudsmen to work in order to carry out the necessary investigation about Ibrahim Seten, the target of the allegations, the then President of the Federation, Turgay Demirel, and the concerned people. While we want to celebrate the achievements of our Women's and Men's National Teams who qualified for the European Championship, it is not possible to ignore this extremely dire and documented claim. Our federation approaches such issues with sensitivity ".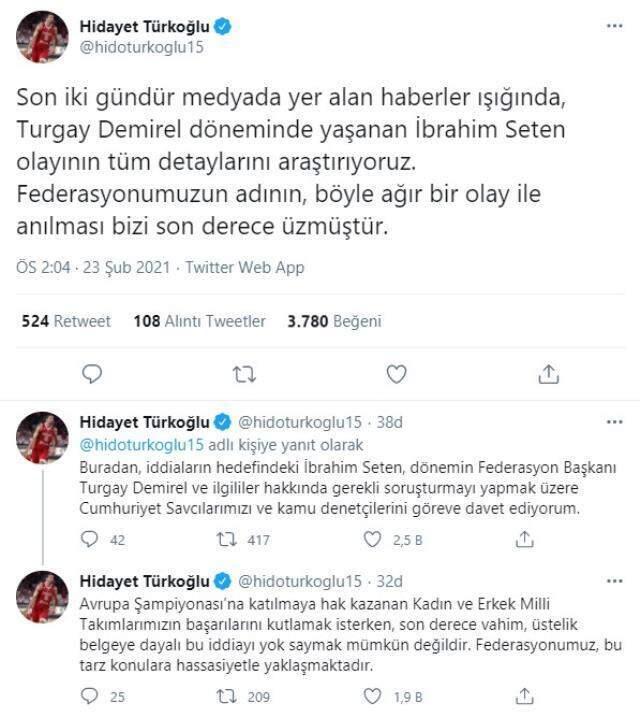 HISTORY OF THE EVENT
According to the claims and documents revealed on social media; Turkey's Basketball Federation in 1992-1994 years between External Relations Officer who served as Abraham Sète university period he met Osman A. named persons than 100 thousand dollars worth of bids received and this offer money 5 people noted that prompted kidnap abroad.
It was stated that İbrahim Seten and two federation officials were detained after the emergence of this attempt, but Osman A escaped. It was recorded that these 5 people were smuggled to the USA through the federation with the fake passports issued. The most critical detail in the claim was that 2 of these 5 people were members of the DHKP-C and 1 of them were members of the PKK terrorist organization.
It was also among the allegations that İbrahim Seten, who was in custody, was released on bail paid by his father and that this incident was deleted from all his biographies.
FETO CRISIS WITH RIDVAN DILEN
Former footballer and commentator Ridvan Dilmen, made in September with live Ibrahim Set Rasim Ozan Porcelains, Mehmet Arslan, a journalist such as Ismail has accused fetö'cülükl and "is Abraham Seden traitor, Feton is lovesick. Gelsin call the largest power in Turkey is Time. Come on. Call it. If he's not coming. Gather your crew and get out of this country. Take your Rasim, and take his İsmail Er. What do you mean, "Prime Minister who does not take a hair from his nose", who are you? And what do you say about the leader of the terrorist organization. You have also smeared your blood. Immoral. Now you cannot write these tweets that you posted. Because you are like Taraf Newspaper. You are organized. You are like Piranha. "
İbrahim Seten, on the other hand, said to Rıdvan Dilmen's claims that "İbrahim Seten was an old man who retired two years ago. Sport i am manager For a few days, my friends and I have been attacked by Rıdvan Dilmen. The reason for this is that we criticized him. Yes I criticized. Because he pretends to be a Fenerbahçe representative in the seat where he claims to be neutral and reaches millions of people. I say, 'Let this season be the season of Rıdvan Dilmen', mixed with humor. He also slanders me as a 'FETOist' for failing to give a solid answer to my criticisms. It's that simple. But the fact that the matter is simple does not destroy my feeling of 'being ashamed for someone else', unfortunately, "he replied.
"WHY USED OUR PRESIDENT'S NAME 19 TIMES?"
Continuing his statements, Seten said, "I am sure that everybody who watched the one-hour black theater on NTV had this feeling. He had nothing to say other than the screenshot of the few ironic tweets I posted about the FETÖ bastard. He acted as if there was a great political power behind him. He also diluted the FETÖ case by accusing people of being 'FETO' in front of 81 million people without any evidence. Why does he use the name of our President 19 times while fighting? How does it not realize that he inflicts the greatest damage on this institution with the bald image he displays while giving the impression that he has taken politics behind him? he used the expressions.