Things got messed up when the Romanian referee stopped Haaland, whose match he was directing, to get an autograph! Here are the images
2 min read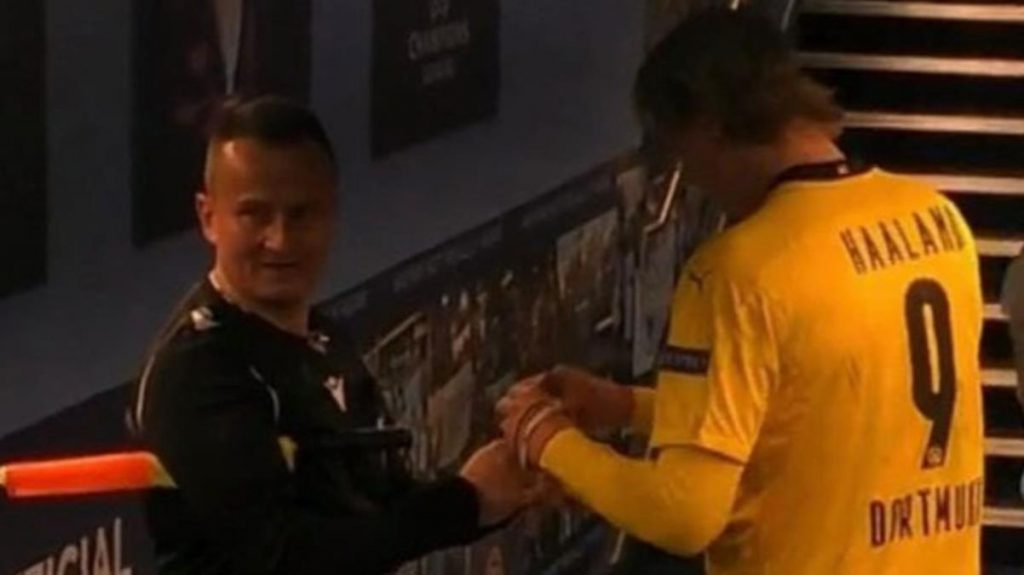 After the Manchester City-Borussia Dortmund match in the Champions League, the line referee Romanian Octavian Sovre requested an autograph from Erling Haaland. While Haaland did not refuse the referee's request, commentators in Europe, famous commentators, said the situation was unethical, and Manchester City coach Pep Guardiola took it natural.
Champions League Quarter Final debut Borussia DortmundManchester City won 2-1 with a goal in the 90th minute, while Erling Haaland, the star striker of the German team, could not break the goal fast. However, the Norwegian striker, who assisted Marco Reus's goal in the 84th minute, came to the fore when he signed the referee in the corridor after the match. Romanian Octavian Sovre, who served as a lineman in the critical match, asked Haaland, who was caught in the corridor after the match, to sign his yellow and red cards.
"THIS IS NOT TRUE"
While the Norwegian footballer did not leave Sovre's request unanswered, the images were the event. Manchester United's former midfielder Owen Hargreaves commented on the channel, "You can admire a footballer, but you can't do it in front of other players. It doesn't feel right to me."
RUMEN REFEREES ATTENTION
Many football commentators in England pointed out that the act of the Romanian referee was unethical, while the mistakes made by the Romanian referees in Champions League matches were mentioned. In the PSG-Başakşehir match played at the beginning of the season, the match was postponed due to the Romanian referee who made racist remarks to Demba Ba.
"BELKİ DE HAALAND HAYRANI!"
Manchester City Coach Pep Guardiola, on the other hand, did not mind the situation and said the following words: Yes, they told me, but I did not see it. Maybe Haaland's fan. Why not? The referees were great. There was no problem in the game. VAR canceled our penalty and the decision was correct. Perhaps he got the autograph for his son or daughter. The referees did a good job, nothing but that.