The Orhun Ene period has officially begun in the A National Men's Basketball Team!
2 min read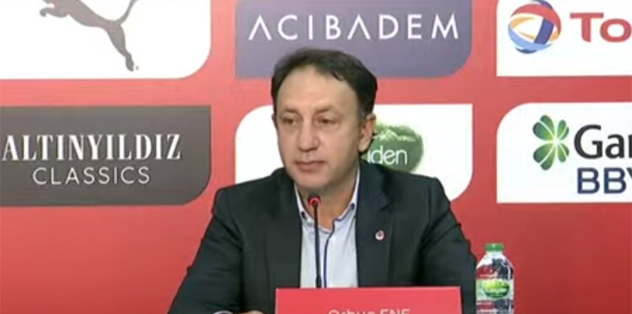 The Orhun Ene period officially started in the A National Men's Basketball Team. The signing ceremony of the Turkey Basketball Federation CEO Ömer Onan was made due to the corona virus with pandemic online participation.
Covidien-19 tested positive for the Turkey Basketball Federation Hedo Turkoglu to the starting Umar, he wished to get past him, "A short time ago the horizon, we go our separate ways with Sarica. I thank Him and services for their contribution. I wish him success in the next career. A national team of our new His trainer Orhun Ene is one of the most valuable coaches trained by Turkish basketball.Although he decided not to work until the end of the season, I would like to thank our president Hidayet Türkoğlu and him for accepting this honorable and important task by not breaking me in this process. The head coach of our A National Team is Orhun Ene. As TBF, recently female mill We successfully completed the bell-shaped organization of our team. We will now host men's national team matches. It will be played in fanus order at Sinan Erdem Sports Hall. It will be played without an audience due to the pandemic. Our national team is gathering. It will be collected after passing the tests. He will also do his first training under the direction of Orhun. Orhun thanked ene and his team, "he said.
ORHUN ENE: "WE WILL MAKE A NATIONAL TEAM EVERYONE WILL BE PROUD OF"
Orhun Ene, who said he was very excited, said, "I wore the uniform of the A National Team, I worked in every category. When I am called to the national team, I feel the excitement I have every time. I have very different experiences compared to the past. Working in the national team, worked before me Ergin teacher, Ufuk Contributing to the level brought by our coaches such as the coach will be one of my primary duties. I thank our president and our management board who deemed me worthy of the task. We have a difficult process. The fact that the windows of the national team are in a very busy period and the working time is limited created a structure different from the national teams in the past. We are people who value national jersey very much. The players we call national team are people who have demonstrated this loyalty. Our players who will play in the national team think of them as the biggest responsibility in this business. We will create a chemistry in a short time. I think it will be the most important detail to maintain this culture and make a difference with culture. In the short term, this is more "After going through an intense working order with the fellows, we will fulfill our self-confidence and create a national team that everyone will be proud of."