RH Bandırmaspor Bursaspor: 1-2 MATCH RESULT – SUMMARY – Last minute TFF 1. League news
3 min read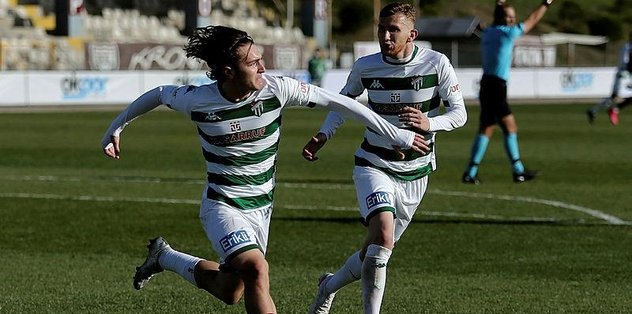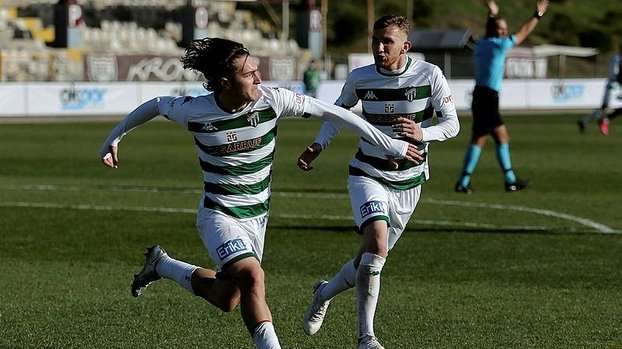 Bandırmaspor and Bursaspor met in TFF 1st League. The match played in Bandırma 17 Eylül Stadium resulted in 2-1 advantage of the visiting team.
The goals that brought Bursaspor the victory were Özer Hurmacı in the 45th minute and Ali Akman in the 52nd minute. 18-year-old Ali Akman finished his longing for 4 weeks and reached his 8th goal in the league this season. Özer Hurmacı, 34-year-old experienced green-whites, scored his first goal this season.
On the other hand, İshak Çakmak scored the goal of the host Bandırmaspor in the 69th minute (from penalty).
Bursaspor, who won after 2 games in the league and ended their longing for 5-week victory on the road, increased his score to 17. Bandırmaspor remained with 12 points.
Bandırmaspor will be a guest of Boluspor next week in TFF 1st League. Bursaspor will host Samsunspor.
MINUTES OF THE MATCH:
In the 3rd minute, Burak Kapacak threw the ball from the top in Ali Akman's pas in the position where he faced goalkeeper Zülküf.
In the 19th minute, Halilovic hit the ball centered by Abdurrahim from the left wing in the penalty area, and the leather was rounded.
Trying to be effective with counter attacks in the 29th minute, Pote's head kick remained in the hands of goalkeeper Ataberk. in
kada Özer Hurmacı leaned behind the defense and brought the ball over Zülküf to the net. 0-1
In the 52nd minute, Zülküf lost the ball in the middle of Özer. Ali Akman sent the ball to the empty goal and scored his team's second goal. 0-2
In the 68th minute, the referee showed the penalty spot where Traore was on the ground in the penalty area. When İshak Çakmak sent the ball to the net at the penalty kick, the difference fell to one. 1-2
In the 90th minute corner kick, Traore's head kick remained in Canberk.
Stadium: Bandırma 17 September
Referees: Çağdaş Altay xx, Sezgin Çınar xx, Özcan Sultanoğlu xx
RH Bandırmaspor: Zülküf Özer x, Abdurrahim Dursun xxx, Berat Sold xx (Hakan Bilgiç min.46 x), Mickael Franck Pote xx, İshak Çakmak xxx, Guy Lucien Michel Landel x (Fırat Arıkan min.86?), Doğan Can Davas x (Selçuk Alibaz min.75 x), Onur Akbay xx, Ruben Rayos Serna xx (Lacina Traore min.46 x), Emir Halilovic x, Mehmet Yiğit x
Reserves: Kurtuluş Yurt, Gökhan Değirmenci, Mert Ali Atakulu
Coach: Erkan Sözeri
Bursaspor: Mehmet Ataberk Dadakdeniz xx (Canberk Yurdakul min.46 xx), Onur Atasayar xx, Cüneyt Köz xxx, Emirhan Aydoğan xx, Ramazan Keskin xx (Ozan İsmail Koç min.90?), Burak Kapacak x, Özer Hurmacı xx (Recep Aydın min.66 x), Ali Akman xxx, Furkan Emre Ünver xxx, Burak Altıparmak xx, Batuhan Kör xx (Tuğbey Akgün min.66 x)
Reserves: Çağatay Yılmaz, İsmail Can Çavuşluk, Kerem Şen, Eren Güler, Ertuğrul Kurtuluş, Berat Altındiş
Technician: Fazli Tan
Goals: Özer Hurmacı (min.45), Ali Akman (min.52) (Bursaspor), İshak Çakmak (min.68 p.) (Bandırmaspor)
Yellow cards: Burak Kapacak, Ali Akman (Bursaspor), Emir Halilovic (Bandirmaspor)