Mustafa Cengiz opened his mouth and closed his eyes! He called the referees 'bloodless', called MHK to resign
4 min read
President Mustafa Cengiz of Galatasaray, which suffered a heavy blow on the way to the championship after the successive bad results in the Super League, made statements about the agenda on the official television channel of the club. Criticizing the referee mistakes made in the Super League with very heavy expressions, Cengiz said 'Militan' to the VAR referee Suat Arslanboğa of the Karagümrük match and used the expression "How anemia" in the decisions of the referees of Sivas match Ali Palabayık and Ali Şansalan. Cengiz also called MHK to resign.
Galatasaray President Mustafa CengizMade statements about the agenda on the official television channel of the club. Cengiz, who used heavy expressions against the referees, made criticism especially over the match played by the yellow-reds against Karagümrük.
Some of Mustafa Cengiz's statements are as follows:
"THIS THEATER"
"When I am idle, I go to rest. I mostly watch the match of my team to the Galatasaray game. I don't watch other teams in general. I have been watching them since I became president. Our match was Friday. I quit the matches I watched on Saturday and Sunday. This is the theater. This is fiction. Theater is a work A social satire, a message is given. Unfortunately, this is not even a theater, but a comedy. It has exceeded it now. It was written before, but it was written somewhere correctly. When the big team scores against the other team, I guess the result and I am not mistaken as a result. visually disturbing to live. I wouldn't be disrespectful to my opponents. It's all a congregation, don't get it wrong in terms of community.
"THERE ARE GROUPS IN REFEREES"
"Turkey is in the last 1-2 months, the two events had on referees. They have their own in groups. It had all the time anyway. Now he formed another group. YES referees, the referees on the field. Everyone how to determine the lineman. In the middle referees tesanüd with YES referee It is happening. I have what I know. This development is very dangerous, very dangerous. "
"SEE ALI PALABIYIK"
Image: Kerem Aktürkoğlu staying on the ground in Karagümrük match and cancellation of penalty and red card decisions with VAR
"The referee Ali Palabıyık is very determined. I met with the authorized people. Very determined referee. The referee says," I clearly saw the penalty and red ". The penalty was canceled against the rule. Even a 100 grams of reverse wind, they call it a death wind in aviation, the plane Ali Palabıyık said, "I saw the intervention clearly." Kerem is a fast, very fast child. That touch will make him fly. Let's put ourselves in Suat Arslanboğa's place. GÜzel brother. How do you do this? that's how you interpret. is that floor bad. this flooring is one of Turkey's most beautiful floor. not one Kerem devious, had such scorers. we reject strongly that our team. trying to self recover and vice versa. I can not girls Palabıyık. very clear, very close, He sees and decides. Interestingly, the main referee is Suat Arslanboğa, our friend. He says, 'Come and see, he fell.'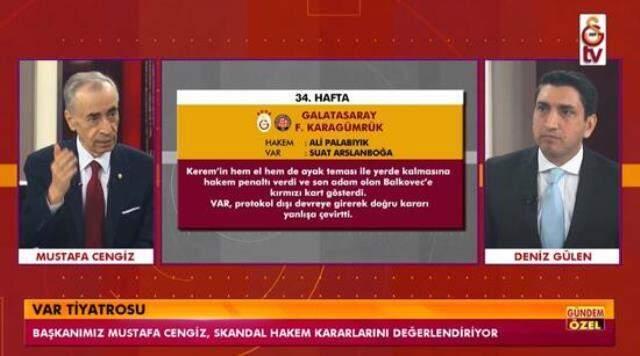 "SUAT ARSLANBOĞA MİLİTAN"
"No player from Karagümrük does not object. He says don't give me red. I don't get angry with Ali Palabıyık here. Against the rules, Suat Arslanboğa is a militant referee. He said harsh words like 'Come and see your career is over.' Babel is armpit. If they make a statement about Suat Arslanboğa, I would like them to explain all the speeches. You cannot cause social tension. You will be honest, knight, sipahi. "
"THEY SAY NATURAL MOVEMENT"
"They said Yedlin is extending his foot in the continuation of Lens's movement. The eyes of a professional football player are like radar. He shoots and sees Yedlin's foot. He shoots but does not look, maybe his foot is going to the pit. gravity. "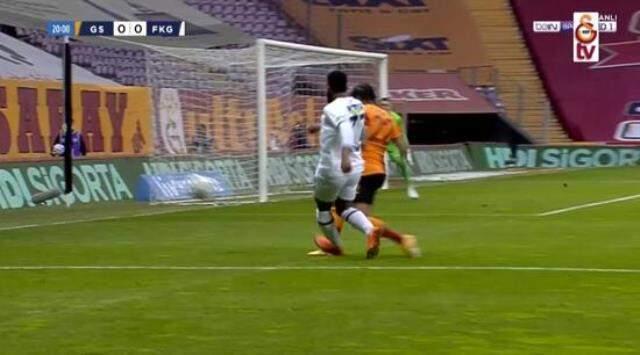 "THIS IS THE NATURAL FLOW OF LIFE"
"This is the natural flow of life, yes. Ali Şansalan says he shot in passing. He says sorry. He does mime. There is also Ali Palabıyık in VAR. How is this anemia. (For referees)"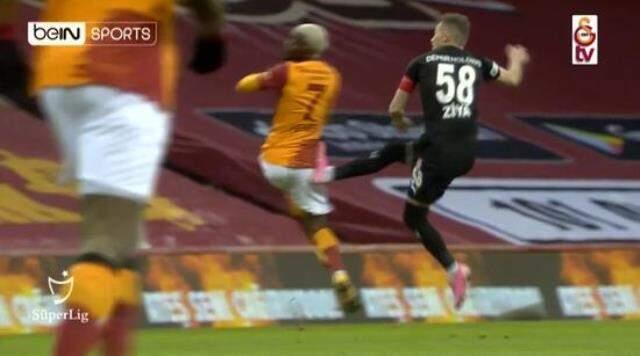 "MHK LOST ITS POWER "
"Unfortunately, MHK has lost its function. For 5 consecutive weeks, I look for bad intentions here, if no mistake has been made in favor of our opponents. They threw Falcao even after our match. I think MHK has lost its power now! when done, why not. "