Lukas Podolski Antalyasporlu intimate confessions from Turkey is my second home
3 min read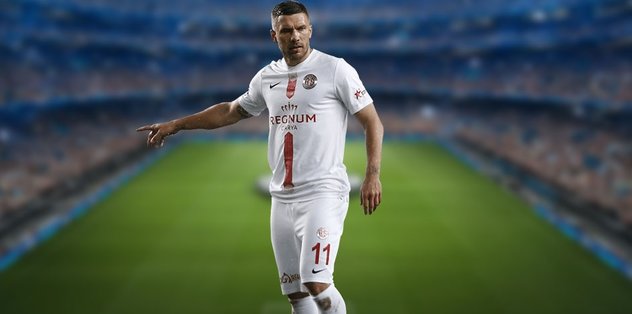 With the organization organized by Fraport TAV Antalyaspor and Antalya Promotion Foundation (ATAV), the promotional video of star football player Lukas Podolski shot in Patara was launched at Antalya Stadium. The launch was attended by FT Antalyaspor Board Member Melih Beken, Antalyaspor's German star footballer Lukas Podolski, ATAV President Yeliz Gül Ege, Fraport TAV Antalya Airport General Manager Deniz Varol and Patara Excavation Director Prof. Dr. Havva İşkan Işık attended.
Speaking at the launch, Antalyaspor Board Member Melih Beken reminded that they wanted to use the international big stars they transferred to the Antalyaspor brand on the instruction of Ali Şafak Öztürk not only on the field but also in the promotion of the geography we are in. Stating that they started this series with Podolski, Beken said, "First of all, I thank Podolski. He is a world star, but he went all the way with his family. He supported the project very sincerely and sincerely. It made us very happy. There are many projects we want to do. We want to attract historical and cultural places, introduce our country, show not only that we have beaches, sun, sand and hotels, but also historical artifacts and natural beauties. We want to use Antalyaspor, one of the most important brands of the city, and highlight it, "he said.
"BE AN EXAMPLE"
Beken added that they will use other stars and national players in different projects and areas besides Podolski. Stating that Podolski's actions are rare things in the world of football, Beken said, "Football is played only on the green field. Podolski came to us with so many projects," Let's go to schools, universities. Let's walk in Kaleiçi. Let's make new products. " "Podolski is not only a football player but a world star. He supports every project on and off the field without losing his discipline and motivation. We want this to be an example for many football players today," he said.
PODOLSKI: "I ACCEPTED WITHOUT THINKING"
Lukas Podolski said he accepted the project without thinking when it came to him. Podolski, who stated that he has done every job he loves successfully, said, "I saw what I would love in this project. We started the project. We thank everyone who conveyed their good wishes and messages to me. It may be interesting for you to go to the market, to shop. It may be interesting for me to go to the market. Comfortable, taking vegetables and fruits is my lifestyle. I do everything I love and try to give the best. I accepted this project without thinking, because I liked the project, "he said.
"MY SECOND COUNTRY"
Turkey, which underlined that as his second homeland, the German player, "Turkey is my second home. Important friendships, I have my friends. All my holidays I spend in Turkey, so second home. We started with Patara different projects will continue to support the introduction of this city," he said .
"I WILL PROMOTE ANTALYA TO THE WORLD"
Reminding that he has been in Antalya for 1 year, Podolski completed his words as follows:
"I have been not only in Patara, but in many historical and cultural places of Antalya. Actually, I am a person who loves everything I do. I started with love, I will continue with love. Antalya is not just about sea, sand, sun. With your family, with your friend, only by bike, by car to different places. You can go, you can take a walk. We started this project since I came to Antalya. I want to introduce Antalya to the world in the continuation of these projects. Publicity is not an easy thing. The whole world needs to see these beauties. This project was appropriate by me. The whole world had to see the beauty visually. "
Akdeniz University (AU) Literature Faculty Archeology Department lecturer Işık told Podolski that Patara belongs to him as much as the tea he holds. Işık invited everyone to Patara and added that Patara is in Antalya.