Last minute: Mesut Özil, Fenerbahçe's new transfer, signed it! Here are his first words
1 min read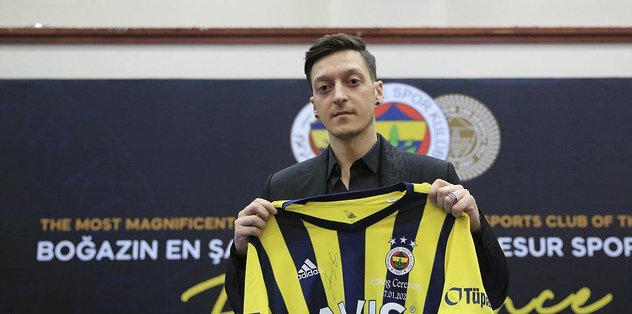 Fenerbahçe's transfer to Mesut Özil, which has made a splash all over the world, was once again announced at the official signature ceremony. The star football player, whose 3.5-year agreement with the yellow-dark blue was reported to the KAP, signed in front of the press while he was also practicing with his new team. The world famous football player came to the press conference with his family. Here are the statements of Mesut Özil at the signing ceremony …
MESUT ÖZİL: I AM VERY HAPPY AND EXCITING
Stating that he was very happy to be transferred to Fenerbahçe, Mesut Özil said, "I am excited and very happy. As our president said, the dream for Fenerbahçe was a dream for me. I hope I will be useful to the team with my skills. God willing, we will have a successful season, I believe it. I am happy to thank everyone. " used the expressions.
HOW WAS FENERBAHÇELİ?
The 32-year-old football player, who stated that everyone in Germany supported a team when he was a child, said, "It is myself who makes me Fenerbahce. When I was younger, one of them is from Galatasaray, the other is from Beşiktaş, but I was from Fenerbahçe.
"I BELIEVE THAT I WILL LIVE CHAMPIONSHIP"
"I believe that I will have the championship with Fenerbahçe. Fenerbahçe is always playing for the championship and I hope we will do this as soon as possible this season."
"I WILL DO MORE THAN MY HAND"
"I always played under pressure, there will be pressure in Fenerbahçe. I played in very big clubs, but Fenerbahçe is a different club for me, a club I love very much. I will do the most as I can.
"IT IS NECESSARY TO PUT ALEX IN A DIFFERENT PLACE"
"Alex, in my eyes, is the greatest football player Fenerbahce has ever seen. It is necessary to put Alex elsewhere.
"I WISH BURAK YILMAZ SUCCESS"
"I wish you success Burak Yilmaz my brother. I hope to represent Turkey in the best way and the field itself."
"I NEVER PLAY IN GERMANY AGAIN"
I never go back when I'm on a road. I wish success to the German National Team, but I will never play again.
WILL IT PLAY IN GALATASRAY DERBI?
I will not be able to give the time when I will be on the field. Hopefully soon.
"ARDA TURAN IS VERY TALENTED"
Arda Turan is a very good brother, a very talented football player. We played mutually in Spain, we will play here too. I wish him success too, good luck.

EMRE BELÖZOĞLU: IT WAS A BEAUTIFUL DREAM FOR ALL
Mesut was a good dream for all of us. It was a childhood dream for him as well. If we had a share in this transfer, how happy we are. I got to know Mesut more closely, and he will set an example for young people with his human values, humble stance, loyalty to his country and hometown. This beautiful person will be from Fenerbahçe. There will be many matches under our glorious form.
"DEAR WIFE ALSO HAS A SHARE IN TRANSFER"
Thank you to your dear wife and family. They also had a share in this transfer. We have a good team and a good teacher. We will be very strong with Mesut and we will remove the trophies. Turkey, eager to embrace Massoud. We will be with Mesut in good and bad days, we will not leave him alone.
ALİ KOÇ: A NAME THAT HAS BEEN MARKED IN THE LAST 10 YEARS OF WORLD FOOTBALL "
Fenerbahçe President Ali Koç made important statements about Mesut Özil's transfer process at the signing ceremony. Stating that a dream had come true, Koç said, "At a meeting in Samandıra, I said 'it is a difficult dream to come true' for Mesut. After that interview, we went to London. This is how our Mesut journey started. I met with Arsene Wenger in London. I asked how he was, not his state.
His injury, his fitness, his state in the locker room. Will he come and look down on us? I got very good answers. Then I had Wenger and Erol Bulut meet. It was a nice meeting too. Later, we met at a friend's house in London. An important house. The house where Arsenal's important transfers were made. We met Mesut there. Me, Emre, Mesut, his manager … We had a good time. There, Mesut talked about his dream of playing in the team that he has been devoted to since his childhood and said that he would not be a problem with financial issues. It got serious there. Details have been discussed, problems have been resolved. The process between Mesut and Arsenal has been completed and we are here today. We knew that this dream would come true sooner or later. Mesut, a football player who has left his mark on the last 10 years of world football, has gained his Fenerbahçe. "
Faruk Ilgaz Facilities to not only the ceremony from Turkey to the world in many different countries journalists also attended. 10 foreign media institutions took part in the signing ceremony, in which 132 press members from 64 different organizations received accreditation.
The signing ceremony, where Mesut Özil will wear the yellow-blue jersey, is followed all over the world through foreign agencies. Nobody, whose name is not on the list, was not accepted to the organization, where many live broadcast vehicles were also present.
In the meantime, Fenerbahçe Management started another different work. Allowing fans to watch the signature ceremony, the yellow-dark blue ensured that they could follow these historical moments from Zoom through the "Mohican" application. For interactive participation, statements were made on the official website of Fenerbahçe.
Mesut Özil, who has signed a 3.5-year signature that connects him to yellow-dark blue colors, will receive a fee from his half-season old club Arsenal. Fenerbahçe, which will not come out of money in this process, will pay 3 million euros annually to the star football player for the next 3 seasons.
Canary will pay 500 thousand euro signature money to Mesut and will pay the highest 1 million 750 thousand euro to Arsenal depending on the sportive success.
Mesut Özil, who started training in Samandıra, also got his license. The name of the star football player started to appear on the official website of the Football Federation. Meanwhile, the 32-year-old football player will wear the shirt number 67, which is the plate code of his hometown, Zonguldak, until the end of the season.
M10 EXCITEMENT AT FENERIUM
Fenerbahçe's flash transfer Mesut Özil's pre-signature products in front of the press were displayed at Fenerium. Sweetshirt 160, T-shirt 80, hat 65, mask were on sale for 25 TL.