İrfan Can Kahveci spoke for the first time after his transfer: Fenerbahçe was my dream
4 min read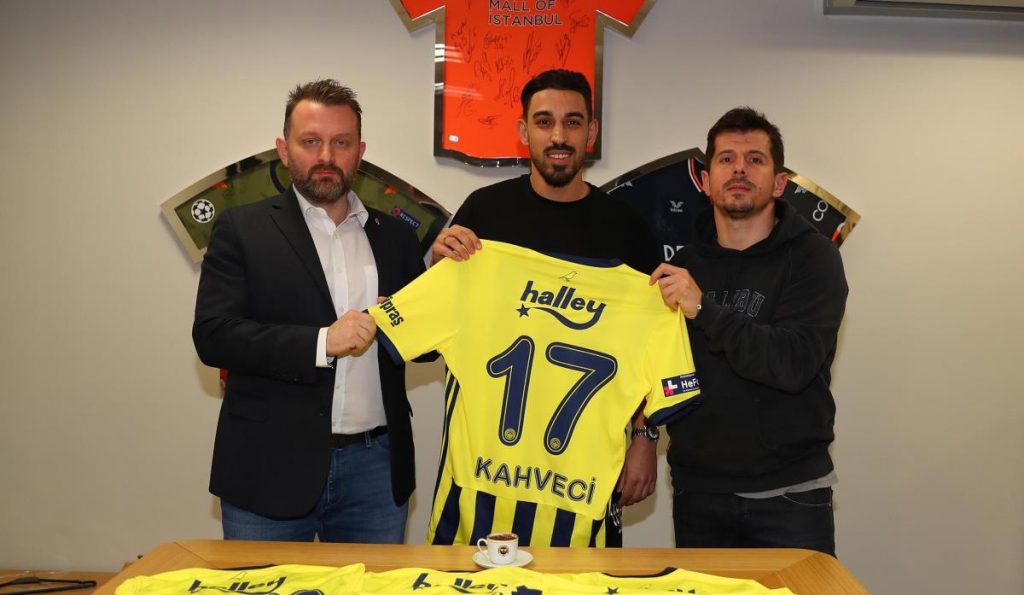 Fenerbahçe's new transfers İrfan Can KahveciMade special statements to FB TV. While conveying the impressions of the national football player, who gave a large-scale interview for the first time after his transfer, he used expressions that would anger the Galatasaray residents.
Responding to the words of Galatasaray Vice President Abdurrahim Albayrak, "İrfan Can Kahveci wanted to come to Galatasaray very much. He said he was from Galatasaray", the successful player stated that it was his dream to play in Fenerbahçe.
Here are the statements made by İrfan Can;
I am very happy because I had the opportunity to come to Fenerbahçe 5-6 years ago while I was playing in Gençlerbirliği. Club's choice Basaksehir happened. I improved myself. If I came back then, maybe I wouldn't be able to meet my expectations I improved myself, now I am in good place, on time. My first dream was Europe, but I still have a dream from Fenerbahçe to Europe. I hope I will have championships and go to Europe.
"I CAN DO ANYTHING BUT THERE IS A GREAT RISK"
I have a disability from Başakşehir. Not an easy injury, but a one in a difficult area. That's why we are not in a hurry. Maybe I can do anything but there is a big risk. It's getting better, I'm working individually. Doctors are thinking a lot, I hope I will work with the team in a week. There is a slight pain, it will pass in 2-3 days. Then I will start with the team and hopefully we will take it until the end of the season.
"I WANT TO WEAR ÇUBUKLU AND BE ON THE FIELD"
I want to be on the field as soon as possible. This was different. I have been transferred but cannot go on the field. I can't wait. I hope I will be worthy when I go out on the field.
Our fans are also constantly texting, asking when I will play. I want to put on the big Fenerbahçe jersey and be on the field.
"MESUT OZIL VERY MODERATE"
I have a lot of friends in Fenerbahçe that I know. Foreigners were also welcomed. Mesut brother also greeted very well. He has seen very high levels, but he is very humble, he is one of us. The weather in the team is very nice, I am very happy to come to Fenerbahçe.
"EVEN I PLAY BAD, I DO NOT FIGHT BAD"
I go to the stadium, I want to breathe that air and I want to get out and fight as soon as possible. Even if I play badly, I will fight until the end when I get on the field.
"INSPIRE, WE FINISH AT THE TOP"
Super League is very exciting. Four big teams, top four. It is a very interesting league. While playing in Başakşehir, there has never been such a championship race. Our team is very good, our club made very good transfers. Hopefully at the end of the season we will finish this job at the top.
"THEY WANTED TO TAKE ME"
Brother Emre has a very important place in my career. Already the best midfielder's one of my idols and Turkey. I learned a lot from him in Başakşehir. It's his influence in getting to this level and getting higher. Selcuk We played together with the brother and shared a lot with him. Thank you very much to our Ali Koç president, Emre and Selçuk brother. They came to the club and met 3-4 times. They showed that they wanted to take me. I hope I will be worthy of them.
"THERE IS NO DIFFERENCE IN SELÇUK AĞABEY, THERE IS EMRE AGAIN"
There is no difference in Selçuk brother, but there is Emre. When I arrived I was surprised when I saw him. Emre brother was aggressive on the field, but now he is calmer. Both of them are very supportive to footballers.
"I WANT TO REACH CUPS, GOALS"
I want to reach all of them, which trophies and what goals. This big hut, that goes well. In our conversations with Emre, he said "You will play well here and then you will go to Europe". These requests, these words made me happy.
"EROL HOCA IS LIKE A SISTER"
I also know Erol Hoca from Başakşehir. There are so many acquaintances here, I never felt strange. We talked after my transfer. I know your expectations from me, we constantly talk. Erol Hoca is like an older brother, like a friend. I hope we will have championships together.
"I CAN'T STOP WHILE WATCHING THE MATCH"
I say, "My doctor, I'll go out and play", but he thinks about me because it is risky and says "just wait a little longer." I cannot sit still while watching the game. I even want to train, but there is a risk. I really want to wear that jersey and go on the field.
"I WANT TO INTEGATE WITH THE FAN"
Playing matches without fans is not enjoyable. I would love to have fans and integrate with them in my first game. I hope we will be champions, we will meet whenever stadiums are opened. When it comes to health, you cannot say anything.
"I WOULD LIKE YOUR FANS"
I followed the reactions of the fans on social media. I knew that they wanted me so much for 2-3 years. I hope I will be worthy of them. Thank you for their support.