Hamilton wins eventful Bahrain Grand Prix in Formula 1
2 min read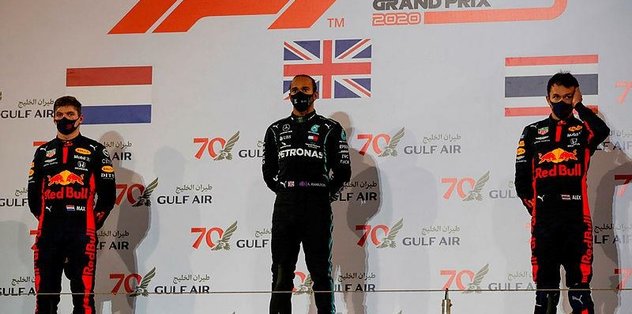 At the Bahrain Grand Prix, the 15th race of the Formula 1 World Championship, the British driver of the Mercedes team Lewis Hamilton came first.
The 15th challenge of the season, in which Mercedes won the championship in the teams and Hamilton in the pilots class, was held on the 5.4 km Bahrain International Circuit in the Sakhir Desert over 57 laps.
Lewis Hamilton started from pole position and finished first with a time of 1.34.01. The British driver reached the 11th place in the season and 95th in his career.
Red Bull driver Max Verstappen, who crossed the finish line 1,254 seconds after Hamilton, took second place, while his teammate Alexander Albon took third place 8.005 seconds behind the leader.
GROSJEAN IS BACK FROM DEATH
A frightening accident occurred in the first lap of the race in Bahrain. Shortly after the start, Haas driver Romain Grosjean touched the car of Alpha Tauri driver Daniil Kvyat.
Grosjean's car caught fire, crashing into the barriers after the contact. The 34-year-old French pilot was able to get out of the split vehicle by his own effort.
Grosjean, who was reported to have mild burns on his hands and ankles, was hospitalized for precautionary reasons.
Racing Point driver Lance Stroll, who came into contact with Kvyat's car, was out of the race by somersaults in the 4th lap of the race, which started for the second time after the given break.
Racing Point driver Sergio Perez could not complete the race when the engine of his car caught fire 3 laps before the end.
The 16th race of the season, which will also be hosted by Bahrain in Formula 1, will be held on December 6th.
Following the Bahrain Grand Prix, the top 5 pilots and teams classification were as follows:
Pilots class
1. Lewis Hamilton (Great Britain): 332 points
2. Valtteri Bottas (Finland): 201
3. Max Verstappen (Hollanda): 189
4. Daniel Ricciardo (Australia): 102
5.Sergio Perez (Mexico): 100
Teams classification
1. Mercedes: 533
2. Red Bull: 274
3. McLaren: 171
4. Racing Point: 154
5. Renault: 144