Galatasaray appeals to MHK for Mohamed not to be punished
2 min read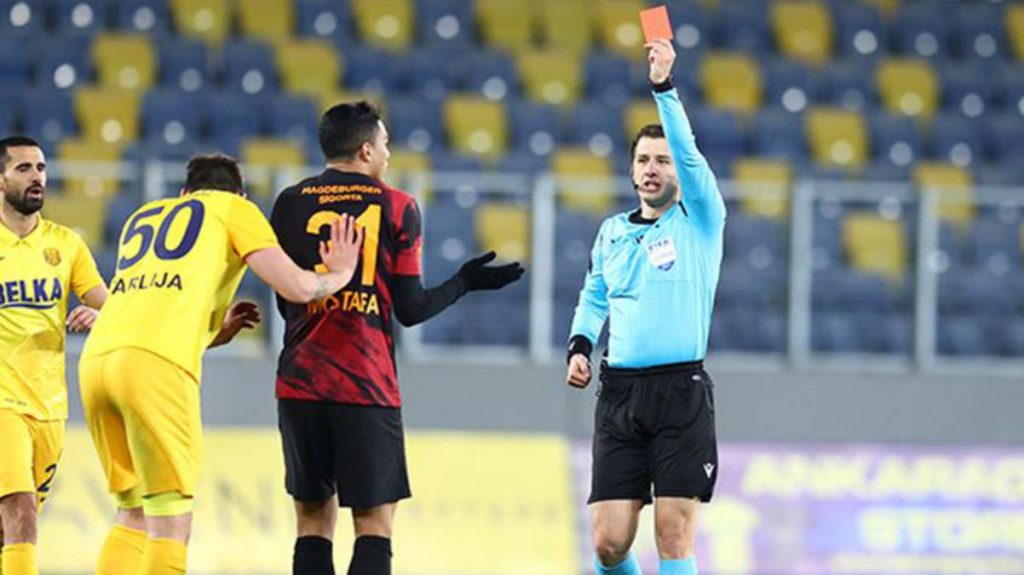 Galatasaray Club announced that in the eventful MKE Ankaragücü match, Mostafa Mohamed, who was out of the game with a red card, applied to the Central Referee Board to determine that the red card was wrong. The yellow-reds set a precedent for Rüştü Recber not receiving a penalty for receiving a red card in 2007.
In the statement made on the official website of the yellow-red club, "MKE Ankaragücü, played by our club in the 28th week of the Super League – Galatasaray In order to determine that our football player Mostafa Mohamed's decision to issue a red card with a red card was serious and obviously wrong and to report these findings in writing to the relevant institutions and our club, the Central Referee Board Turkey Football Federation showing precedent decision was referred to the Central Arbitration Committee Chairman "expressions were used.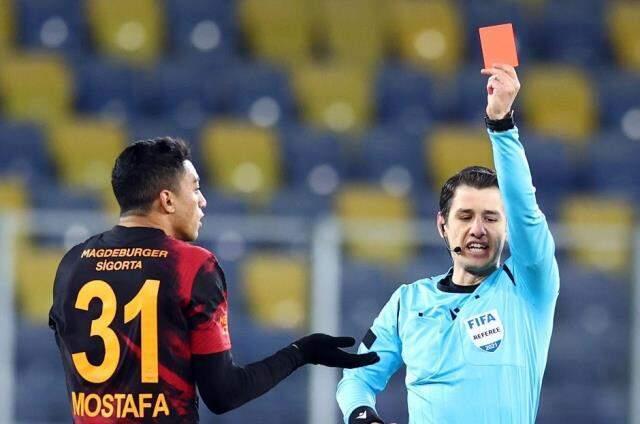 SHOWN BY GALATASARAY
Galatasaray based the application of Mostafa Mohamed for his red card on the fact that the experienced goalkeeper was not punished after the red card seen by Rüştü Recber, who was wearing Beşiktaş shirt, in 2007. In the Trabzonspor match played at that time, Rüştü Recber took the ball outside the penalty area with his chest, but with the warning of the assistant referee, Bülent Yıldırım received a red card for Rüştü.
As a result of Beşiktaş's application, TFF did not punish Rüştü Recber.
The statement of TFF is as follows:
"Rüştü Recber (Beşiktaş A.Ş. football player) In the Trabzonspor A.Ş.- Beşiktaş A.Ş. competition played on 20.10.2007, the decision of the referee to exclude the football player Rüştü Recber from the competition (due to preventing the obvious goal chances) file scope, Turkey Football Federation Central Arbitration Board's 24.10.2007 date and 08-07 / 774 and 08-07 / 775 serious and obvious a wrong decision against No. writings (removed from the game as unfair) that conscientious conviction of, international principles and in accordance with the customary and 8813 numbered Turkey Football Federation Establishment and Duties Article 1 of the Law on, Turkey Football Federation of Labor, Pertaining to the Procedures and Principles main Level 4 / b, and Article 51, the Football Disciplinary Guideline Article 1, FIFA and In accordance with the UEFA Disciplinary Instructions, FIFA Circular dated 11.01.2005 and numbered 948, the player in question does not participate in the first official competition that automatically follows according to the 63 / b clause of the Football Discipline Order. It has been decided that there is no room for the application of ezası. "
Source: Demirören News Agency