For the statements of Beşiktaş manager Adnan Dalgakıran, MHP Deputy Mustafa Baki Ersoy …
2 min read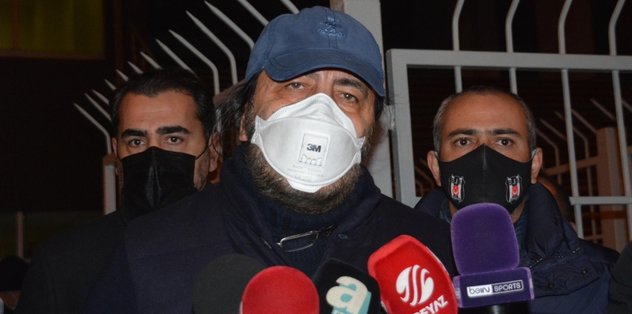 In the 16th week of the Super League, Beşiktaş defeated Hes Kablo Kayserispor 2-0 on the road. After the match, Beşiktaş's 2nd President, Adnan Dalgakıran, said that the Beşiktaş managers were attacked in the lodge during the match.
"We would like to thank our president, our club, our teacher and our footballers," said Dalgakıran and said: "We also thank Emre Kocadağ, who has worked hard for this club, and who is currently in the hospital. Our president also caught Covid-19. Our president, many of our managers are ill. Now our president and vice president is Covid-19. I wish them an urgent recovery as well. I hope they will get well soon and join us. We thank the executives of Kayserispor. However, a very dire incident took place here. The manager of our lodges tension after the match, which was published by the Republic of Turkey in the last minute of a person carrying the MP and his brother and punched our two adjectives friend. This is a very painful thing. This is not Patagonia. We immediately become a plaintiff from them. We are the plaintiff from that MP and his brother. We wanted the camera recordings. We will do all our follow-up as necessary. In the parliament of this country, the people who represent these people, like street bullies, ask and we will ask this great community the price of this. Please, we request again. Our president also talks about fair play, and we always say this. Even if we suffer from this lordship, we are determined to continue in this direction. However, those who attack in this direction should definitely be punished. We would like to thank the managers of Kayseri and Kayserispor who hosted us very well. The issue has nothing to do with them. "
"MY ATTACKING LOCAYA IS NOT A SUBJECT"
On the other hand, MHP Kayseri Deputy Mustafa Baki Ersoy made special statements to Demirören News Agency (DHA) on the issue. Ersoy "It is not possible to attack the lodge" said.
Stating that there is no such thing as an attack, Ersoy, "It is out of the question that I would attack the lodge. They attacked the lodge where the rulers of Kayserispor were located. I said, 'What are you doing?' It is out of question for me and my brother to punch. I did not hit anyone. There was a fight. I think Beşiktaş's manager Adnan Dalgakıran made his statement consciously. His explanation brings to mind the question 'Who do you serve? " He spoke in the form.