Flash statement from Okan Buruk! Our players who want to leave … İrfan Can Visca transfer h …
1 min read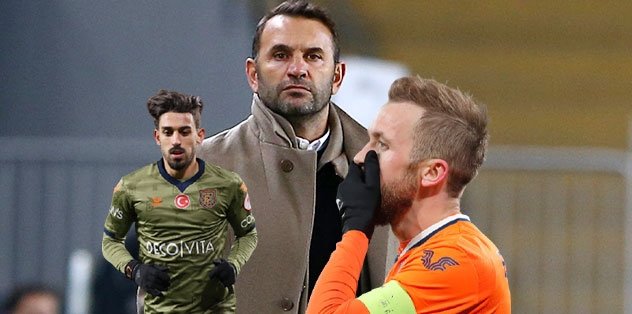 Ziraat Turkey Cup last 16 round of the quarter-finals, defeating rising Medipol Tuzlaspor 5-1 Basaksehir coach Okan Buruk, said they wanted to win the cup.
Okan Buruk spoke at the press conference held after the match played at Başakşehir Fatih Terim Stadium.
Referring to the importance of the cup matches, Buruk said, "On the one hand, there is an opportunity for our young players, who play less on the last 8 on the one hand. We did not play very well in the first half, but we played much better in the second half and won the match with a clear score. Tuzlaspor 1. League." He started well, stayed leader for a long time and is one of the best teams of the league. They tried to put forward a good football today. We congratulate our opponent. It was a clean and nice match. We got to the last 8. It was pleasing for us that Duarte was playing for the first time today. They give us happiness. I hope we are in the last 8, one of our goals this year in the cup. " used the expressions.
İRFAN CAN TRANSFER CLAIMS
Buruk spoke about the allegations that İrfan Can Kahveci would be transferred as follows:
"Of course, I am very happy with my player group. The players I love very much as a human being. Their name is mentioned not only in this transfer period but in every transfer period, but they do their job. They will be the interlocutors, our board and the president. It is the interests of the clubs that matter. We have heard from the statements of our president that there is nothing clear in this sense until now. We respect all decisions to be made as a technical man. I want this player, we advise him to stay well. Our president and board of directors will make the final decision. At the moment, the offers of our players do not negatively affect them, they do their job professionally. They are happy to be here. "
Okan Buruk, who also gave information about the transfer studies, said, "We are evaluating, can we make a reinforcement to the defense area, we are looking at him. Chadli was injured in the last game. It has been a difficult year, it is going through injuries. Today, 16 foreign statements came and we will do our work on it. We will do our work on what is missing and where we can reinforce the team. The important thing was the stopper, we made this transfer because we need to rest Epureanu too, he has no strength to play all matches due to his previous injury. So the center back was very important. " He spoke in the form.
When asked about the injuries of Buruk, Mert Günok and Chadli, he said, "Mert started training slowly, he will be with us again as soon as possible. Chadli had a bad muscle injury. It is said that it will be between 4-6 weeks. league and Turkey Cup, will play both the Super Cup final. It was negative news for us. we will do about her evaluation. in this sense, will try again to add him to our permanent staff we can find a player alternately to attack. " gave the answer.