Beşiktaş TOFAŞ match result: 94-85 Beşiktaş TOFAŞ match highlights
2 min read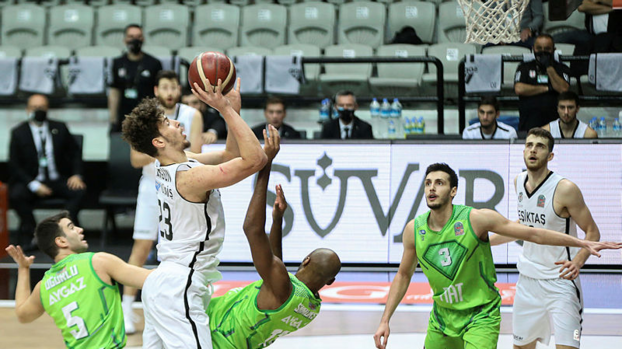 Beşiktaş defeated TOFAŞ 94-85 in the 9th week of ING Basketball Super League.
Starting the match fast with Berk İbrahim Uğurlu's points, TOFAŞ got the upper hand in the game by making a 9-0 series at the beginning of the fight. Finding their first issue with Johnson in the 3rd minute, the black-and-whites captured a 6-0 series with Alperen Şengün stepping in and reduced the difference to 5 points in the 5th minute (8-13). Maintaining its superiority throughout the quarter, TOFAŞ finished the first episode 24-21 ahead.
Starting the second half effectively, Beşiktaş was able to take the lead in the 12th minute with Blackmon's three-point basket, evaluating TOFAŞ's empty return from consecutive attacks (27-26). While the 16th minute of the match was equal to 36-36, Beşiktaş did not allow the control of the game to pass to its opponent with the contribution of Şehmus Hazer and Blackmon. While both teams managed to respond to each other's points in the last minute, black and whites went to the locker room with a 47-46 advantage when TOFAŞ returned empty from the last attack.
Beşiktaş started well in the third quarter, widening the gap with the points of Blackmon and Şehmus Hazer and was ahead 55-48 at the 22nd minute. The black and white team, which showed an effective game in defense, maintained its superiority for a long time with the baskets it found at critical moments. Trying to be effective under the rim, TOFAŞ closed the gap when the last 2 minutes were entered and scored with external shots and the third quarter ended with the home team's advantage of 65-64.
Having failed TOFAŞ's efforts to get ahead with the numbers it found, Beşiktaş was ahead by 7 points in the 34th minute (78-71). The black and white team, which broke the resistance of its opponent, won the match 94-85 as they entered the last minutes with the baskets they found one after another.
The fight was followed by the president of the black and white club, Ahmet Nur Çebi and the members of the board of directors.