Anadolu Efes 90-80 Galatasaray | MATCH RESULT ING Basketball Super League
2 min read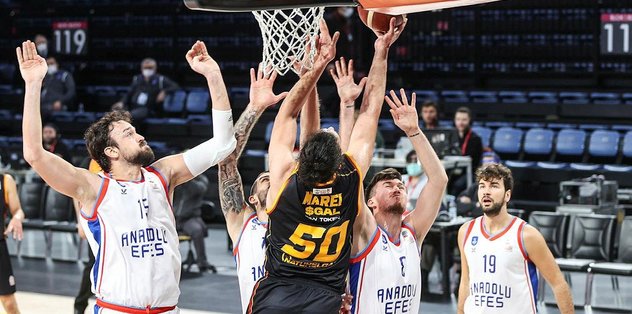 Anadolu Efes defeated Galatasaray 90-80 in the 16th week of ING Basketball Super League.
The navy-whites, missing a match, left their 15th game in the league, defeating them and retaining their title as undefeated. The yellow-reds were defeated for the 11th time.
While the fight started with mutual baskets, Anadolu Efes was ahead 19-9 in the 7th minute. Both teams experienced turnovers in the last part of the quarter. Galatasaray reduced the difference to 3 points 20 seconds before the end of the period, with the contribution of the players involved in the game from the side: 21-18. The home team, who made good use of their last attack right, closed the first period 24-18 with a three-point hit by Doğuş Balbay.
The second quarter started off at a slow pace. Anadolu Efes beat the 15th minute by 34-27 ahead of Galatasaray, who lost the ball in a row. While Yiğit Arslan's effective game did not allow the difference to be widened, the home team ended the 19th minute ahead 47-39 by finding baskets with Micic and Moerman. Anadolu Efes entered the dressing room 49-40 superior.
Starting the second half by keeping the difference 8-9, Anadolu Efes finished the 25th minute ahead 60-50 with Larkin's 3-point basket. In the last part of the period, the dark blue-whites, who made consecutive outer shooting hits with Buğrahan Tuncer, who was included in the game instead of Tolga Geçim, finished the third quarter with 22 points (76-54).
Galatasaray performed very effectively in the final period. Galatasaray, who was effective with Marei, Hunter and Yiğit Arslan, against his opponent who lost his tempo and lost balls in a row, reduced the difference to 7 points in the 39th minute: 83-76. Anadolu Efes, who got baskets with Micic and Beaubois in the last episode, won the match 90-80.
On the other hand, national player Tolga Geçim, who played for Anadolu Efes, suffered an injury in the 26th minute of the match and could not continue the game.
SALON: Sinan Erdem
REFEREES: Erşan Kartal, Fatih Arslanoğlu, Musa Kazım Çetin
ANADOLU EFES: Micic 20, Beaubois 15, Tolga Livelihood 4, Moerman 12, Sertaç Şanlı 7, Larkin 6, Yiğitcan Saybir 3, Doğuş Balbay 3, Buğrahan Tuncer 8, Anderson 8, Dunston 4
GALATASARAY: Trice 14, Yiğit Arslan 21, Jefferson 7, Göksenin Köksal 3, Marei 13, Hunter 9, Motum 8, Caner Erdeniz 3, Eray Aydoğan 2
PERIOD 1: 24-18
CIRCUIT: 49-40
PERIOD 3: 76-54
FIVE FOULS: 39.29 Hunter (Galatasaray)