Ümraniyespor Boluspor: 0-2 MATCH RESULT – SUMMARY – Last minute TFF 1. League news
2 min read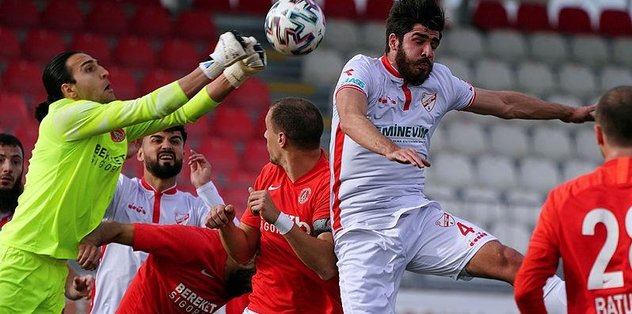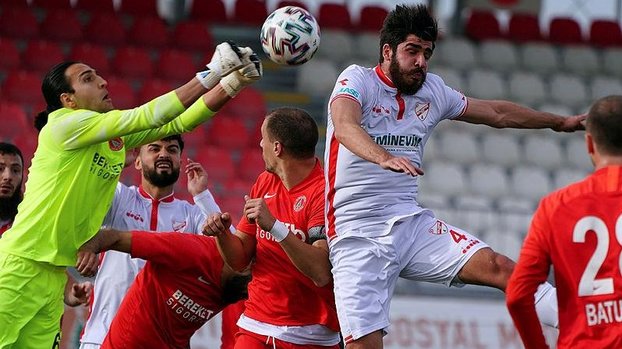 In the closing match of the 13th week of TFF League 1, Beypiliç Boluspor defeated Bereket Sigorta Ümraniyespor 2-0 on the road.
Ümraniyespor could not benefit from a penalty with Batuhan Artarslan in the extra time of the first half.
MINUTES OF THE MATCH
Meeting outside the penalty area with the ball taken away by goalkeeper Eyüp in the 23rd minute, the hard shot that Melih took without waiting was auta.
In the 28th minute of Ümraniyespor attack, Gomis opened on the left wing and hit the front pole with Sow's head. The ball was auta with a small margin.
30th minute in Ümraniyespor, Kevin Mayi's hard shot goalkeeper Mosquera hardly hit the corner.
In the 39th minute Boluspor attack, goalkeeper Ahmet CELdi shot Araz. Poepon wanted to complete the spinning ball, but Ercan did not allow a goal in Ümraniyespor.
45 + 2. In minutes, Gomis remained on the ground with Kerem's hard intervention and the referee Kutluhan Bilgiç gave a penalty.
Batuhan, who came to the ball to use the penalty shot in 45 + 3 minutes, threw the leather round auta. In the 85th minute, in the Boluspor attack developed from the right wing, Melih went down to the last line and the Brigade completed the middle in the back pole and brought the leather round with the net. 0-1
Mihajlovic, who met with Hamza's long ball outside the penalty area in 90 + 5 minutes, played Ahmet, who left his castle, and sent the ball to the empty goal. 0-2
Stadium: Ümraniye City Stadium
Referees: Kutluhan Bilgiç xx, Deniz Turgut xx, Serdar Diyadin xx
Ümraniyespor: Ahmet Eyüp xx, Alaaddin Okumuş xx, Alim Öztürk x, Glumac xx, Ercan x, Batuhan x (Hüseyin Çolak min.88?), Serkan Göksu x, Kevin Mayi x (Turgut Doğan 76 x), Bentley x (Gökhan Süzen min.64 x), Honore Gomis x (Okan min.64 xx), Moussa Sow x (Zivkovic min.76 x)
Reserves: Göktuğ, Hamza, Mustafa Mura, Mustafa Can, Emirhan
Coach: Recep Uçar
Boluspor: Mosquera xxx, Kerem Alıx xx, Aykut Demir xx, Fethi Özer xx, Ali Keten xx, Tugay Kaçar xxx, Bekir Yılmaz xx, Alican Özfesli xx (Burak Asan min.70 x), Araz Abdullyev x (Nemanja Mihajlovic min.70 x), Melih xxx (Mertan Caner min. 86?), Poepon x (Hamza Gür min. 79?)
Reserves: Ömer, Muhammed Bayır, Fatih Özkan, Burak Bekaroğlu, Muhammed Gümüşkaya, Muhammet Arslantaş
Coach: Reha Erginer
Goals: Brigade Kaçar (min.85), Mihajlovic (min.90 + 5) (Boluspor)
Yellow cards: Serkan, Gomis, Ercan, Turgut Doğan, (Ümraniyespor), Poepon, Ali Keten, Fethi Özer, Burak, Bekir (Boluspor)