Reaction to referee errors from Alanyaspor! – Last minute Alanyaspor news
3 min read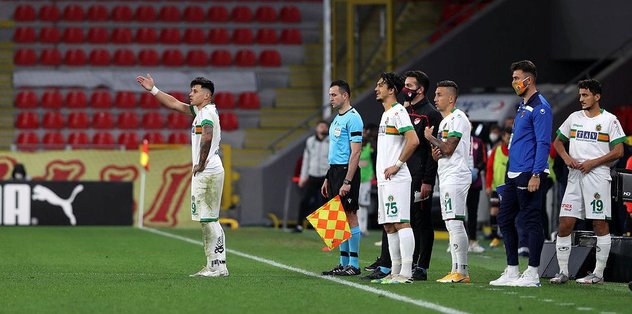 A reaction to the referee errors came from Aytemiz Alanyaspor. Aytemiz Alanyaspor Branch Officer Metin Fahri Özçelik said in a statement about the referee mistakes in recent weeks, "Despite the many decisions that referee Fırat Aydınus made against us and he could not make in our favor, we canceled the arbitration in order to prevent further tension in the arbitration. The statement has become a necessity because of the bad management of the referee Ali Şansalan after the last Göztepe game we played.
"SOMEONE OUT HERE TELL THE GOODWILL OF THE REFEREE!"
Defending that there were referee mistakes in Gençlerbirliği match, Özçelik said, "Let MHK open the management of Fırat Aydınus and follow it in Gençlerbirliği match we played in Ankara. From the very beginning of the match, he immediately started attempts to prevent Alanyaspor. An attitude that stole absent fouls and kept the opponent going. At the 22nd minute, our player, the senior referee Aleks Taşcıoğlu, who is just near the foul position made to Davidson from behind, raises his flag. Fırat Aydınus follows the 2nd referee and gives a foul. The referee says 'there is a foul' and he supports it with his whistle. When the incident is in the penalty area, he returns from his decision and says, "No foul." Let him talk about his intention! Then there is a handball in front of your eyes twice in the penalty area. the referee says "There is handballing" Only then does he watch and give the penalties. In one of the penalty positions, the opponent's defender hits Bakasetas's lip and wings, it's not enough, he slaps his neck. Although he sees the blood, he does not even go to the VAR or call the VAR referee. While the opposing defender should see a red card, both players are shown a yellow card and the position is passed. Genclerbirligi Coach Mustafa Kaplan criticizes the referee decisions during the match. He teases our club and teacher with slang words. The fourth referee of the game, Abdullah Buğra Taşkınsoy, passes them throughout the match. After the missed penalty, he once again taunts, "Contemporary, this is the penalty, let's shout" for an irrelevant position. He is expelled from the game because of a word that our teacher said, but can be shown a yellow card and cannot contain swearing. So, didn't the 4th referee, Abdullah Buğra Taşkınsoy, hear any of the slang words that Gençlerbirliği coach said to our club during the match? While our teacher was thrown under heavy provocation, didn't his rival coach deserve even one yellow card during the match? Is this justice? "He said.
"WE COULD NOT MEAN THAT ATİLLA KARAOĞLAN WAS ASSIGNED AS THE VAR REFEREE IN THE GOZTEPE MATCH"
Referring to the Göztepe match, Özçelik said:
"In the last match we played in Göztepe, too, the referee of the match, Ali Şansalan, used all his discretionary rights and his last decisions in disputed positions on behalf of the home team. In the 63rd minute of the match, Salih did not give the penalty in an incomprehensible position, which was a clear penalty. 74. every minute the opponent is playing by hand, the referee Ali Şansalan says 'there is a push' and gives a foul against us. With his shoulder 10 cm ahead, this position is called offside. In this position, the assistant referee is offside despite both being in front of them, and the referee cannot detect the handball or the penalty. The match is concluded. It is very thought-provoking that the referees start to intervene differently in the correct decisions of the VAR this time, as the load begins to contribute. Although there were only 2 postponement matches on weekdays, we could not make any sense for Atilla Karaoğlan, who will direct our Beşiktaş match on Sunday, as the VAR referee in Göztepe match. I hope such governments and arbitrary decisions will come to an end. Referees treat each team equally, regardless of color or community. Without fear, they direct matches without making any distinction between Istanbul and Anatolian teams. Referees and referee managers whose heart and mind are not enough for this are cleaned from the referee community as soon as possible. "