National Team explanation from Ertuğrul Ersoy! – Last minute A National Football Team news
3 min read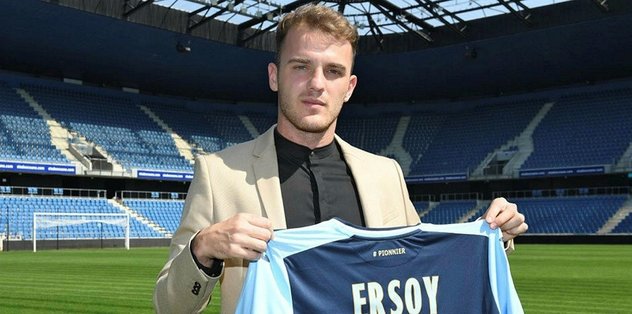 Ertuğrul Ersoy, a successful defender who played in Le Havre, one of the French Ligue 2 teams, made striking statements about his life in France, his football career and goals.
Reminding that he started an adventure from Bursaspor to Le Havre about 1.5 years ago, Ersoy said, "I established a new life and order for myself there. I had some difficulties in the first year I went. I started getting used to it in time. After learning French, I adapted there faster. Over the course of 1.5 years, I have developed myself seriously both on and off the field. I have added important things to myself in order to become an intellectual person. I am very pleased with this situation. It was a very good period for me. First of all, if I talk about the things that it has brought off the field, a new language and "I learned a new culture. I met new people, I saw different places. I had the opportunity to watch and analyze my own country from the outside."
"SITTED THE JUMP OF FOOTBALL"
Explaining the problems caused by the corona virus, the 23-year-old football player said, "I can say that the process we are living in has shattered the arteries of football. What increases our energy is our fans. From time to time, I was thinking about how it would be possible if we could be a little calmer about the fans in the pressured processes we experienced in our country, or if we played matches without fans, but I experienced it in this period. Football without fans is not football. The thing that keeps us alive on the field that raises all our energy and performance is our supporters. Sometimes I think that if there comes an explanation like 'the pandemic will continue for 2 more years and the matches will be played without fans', my personal opinion would be to not play football for 2 years. "All footballers think the same way. Since we started our career, what we are used to is our fans watching us. In fact, what kept us alive was our fans. Their absence affects us in terms of performance," he said.
"NO DIFFERENCE IN MY NATIONAL TEAM TARGET"
Expressing his thoughts about the National Football Team, the successful defender said, "I think that I made the right decision after 1.5 years in France and I believe that I can show the effects of this as one of my friends there again in May. There is no deviation in my goal. Even today. I know it will happen one day. There is an Ertuğrul Ersoy who strives to do the right things on and off the field, desires this and makes sacrifices for this and devotes himself to it.
"I INVEST IN MY SELF"
According to life in Turkey, life in France that transfers made some changes Ertugrul Ersoy, "I focused on myself just football and personal development. In the palm Fields lives with me in my personal trainer and nutritionist. I'm working on a related social media outside pitch and contact my team. What I The reason for all these studies is to be a more intellectual person by increasing my personal development outside the field and, more importantly, to add something to my football. For this, I work with such a team. Actually, I make an investment in myself. The truths of football that can be done outside the field are good rest, good nutrition and working. I am trying to do these, I think that even if not today, I will be successful one day, because people who achieve success can be successful in this way, there is no other formula and I know this formula.
"ALL THE WORLD NEEDS A COMMON RESPONSE AGAINST RACISM"
Speaking about the racism events still going on in the world, Ersoy said, "There are sickly minded people everywhere in the world. It would not be right to damage a country, a team or an institution with the action of a person. The thing to be done here is to unite and react to the people who do them. It should be one of our biggest duties to condemn the people who talk about racism as well. thoughts will also disappear completely, "he concluded.