Milan's star, Hakan Çalhanoğlu, dazzles with his performance!
2 min read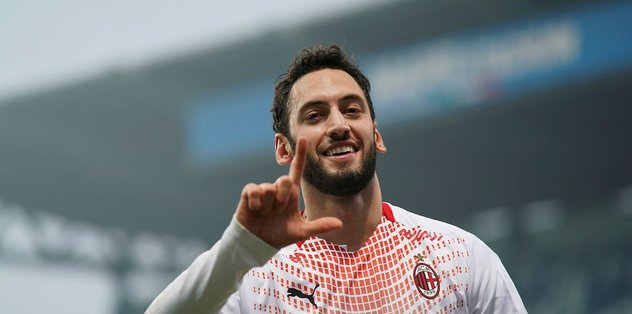 Hakan Çalhanoğlu, number 10 of Milan, continues to dazzle in Italy. The giant clubs of Europe are also in the transfer race for the national football player, who has made a name for himself with his performance. For Hakan Çalhanoğlu, who wants to complete the season in Milan, it is learned that Juventus and Manchester United have already taken the pulse, while the other 2 big clubs are still a secret. Milan storm continues in Italy. Red-blacks make a good start to the league after a long time, and they are in the lead with 34 points in 14 matches. The Milan team is the only undefeated team in Europe's major leagues.
CONTINUES TO DRINK THE TEAM
One of the key names in this performance of Milan was Hakan Çalhanoğlu. The national star lastly played an important role in the victory of his team with one goal and two assists in the match where his team defeated Lazio 3-2. Praised by the Italian press, Hakan said, "A sweet Turkish style. He deserves the number 10 and the lead role."
SECOND NAME OF MILAN
In addition, Hakan Çalhanoğlu, who has shown a good performance since the beginning of the season, has scored 7 goals and made 7 assists in 20 matches he has played so far and became the team's assistant leader. The national football player is also the top scorer of the team after Ibrahimovic.
GIANT INTO THE RADAR OF THE GIANT CLUBS
Hakan Çalhanoğlu, whose contract with Milan will expire at the end of the season, has already entered the radar of giant clubs. It is known that 4 teams, one of the leading leagues in Europe, have already started their work to add Hakan Çalhanoğlu to their squad at the end of the season. One of these teams is Juventus from the same league. Black and white people want to close the gap in that region by transferring Hakan. The other offer for Hakan is from the Premier League. British team Manchester United also wants to strengthen its staff with the transfer of Hakan Çalhanoğlu. Red Devils, who have active days in the transfer every semester, are also heart-pounding for Hakan Çalhanoğlu. The 2 teams that are expected to make an offer to Çalhanoğlu, who is expected to complete the season with Milan jersey, remain confidential.
EXPLANATION FROM THE HIS TEACHER
Milan coach Pioli said, "We are negotiating to extend Hakan's contract. I am sure that he also wants to stay. Now is the time to continue negotiations and we definitely want to keep him in the team."